We work on a number of Green Energy solutions, however, since green projects are often on the cutting edge of new technologies, we cannot share details about more recent projects due to confidentiality agreements. If you have a green energy project, contact us and we can talk about our experience and determine if we're a good fit for your needs.
Our Green Energy projects include work involving:
Wind turbines
Bio-diesel and feed-based fuels
Clean coal technologies
Nuclear power plans and nuclear-powered aircraft carriers
---

IAS Custom Controls Saves Nuclear Power Plant from Millions in Fines
Challenge: The Surry Nuclear Power Station in Surry VA has three emergency diesel generators to ensure they can supply power at all times. The Nuclear Regulatory Commission mandates that these generators be tested periodically to ensure that they are within specifications and will perform as designed if needed. Until IAS Corp got involved the testing was done by connecting meters, oscilloscopes, and other various pieces of test equipment to individual components in the control cabinet. The process took man hours and time away from productivity and the fine was significant f anything failed.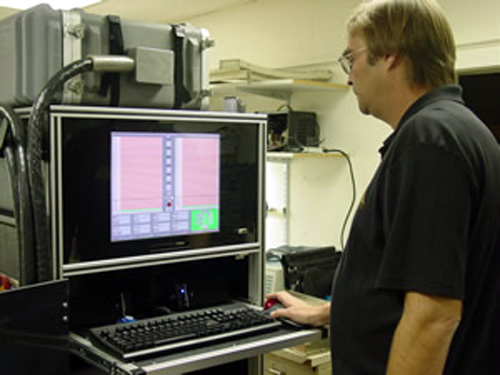 IAS Corp. Solution: We designed and developed the Induspec78 system, which runs the test routines automatically from a self-contained control system, collecting 1000 samples per second, recording data to a hard drive, and importing it into a template that depicts a perfect run. Any deviation from a perfect test isInduspec Data Aquisition System quickly detected and the problem can be corrected.
In 2001, IAS engineers further sped up test times and reduced employee fatigue with a digital communications system called Industrial Light Link. Used in voice activation or Push to talk mode, an unlimited number of headsets can be connected to the same line and used to talk over different channels. Soft ear pad headsets are comfortable enough to wear all day and feature noise cancellation microphones that eliminate background noise.
IAS Corp. Services Delivered:
Automation & Efficiency
Programming
---

Green & Renewable Energy Solution Clients & Solutions:
Surry Nuclear Power Station
Dominion Power
Duke Energy
VA Dept of Transportation
Whether you have a small part that needs testing for viability or an entire facility that needs to run more efficiently, contact IAS Corp. today to see how our Green/Renewable Energy Solution capabilities can work for you.